KRIS Big River: Picture Page
| | |
| --- | --- |
| Area | Basinwide/Regional |
| Topic | Sediment: Matthews Landslides Delivered by Type 1921-2000 |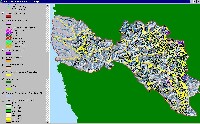 Click on image to enlarge (110K). Click here to display a larger version (195K).
This figure shows geomorphic features mapped by the California Department of Conservation Division of Mines and Geology in the early 1980's; from the KRIS Big River Map Project.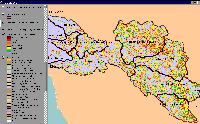 Click on image to enlarge (96K).

This image shows the Big River basin output from the slope stability model SHALSTAB. Areas of increased instability are shown in increasingly darker shades of red.





---

To learn more about this topic click here