KRIS Big River: Picture Page
| | |
| --- | --- |
| Area | Caspar Creek |
| Topic | Timber Harvest: Caspar Creek Kris Map Image |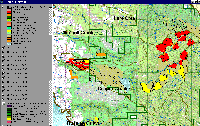 Click on image to enlarge (258K).
This image from KRIS Big River Maps shows timber harvests from 1986 to 1999 by silvicultural type in the Caspar Creek watershed. Much of the drainage is within Jackson Demonstration State Forest. Harvests have taken place in JDSF as well as on private lands in the lower basin. Original data for THPs is from the California Department of Forestry, Santa Rosa.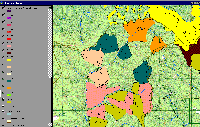 Click on image to enlarge (257K).

This is a zoom in on the North Fork Caspar Creek watershed showing the year of timber harvests. See subsequent pictures for an aerial zoom of patch cuts and a Landsat change scene detection from 1994 to 1998 that shows regrowth.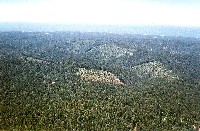 Click on image to enlarge (178K). Click here to display a larger version (275K).

Aerial photograph of the North Fork Caspar Creek looking west with patch clear cuts in various stages of re-growth. Camera position approx. N39º22.45' W123º42.91' Photo # Nicholas Wilson,707-937-0137, PO Box 943, Mendocino CA. Scanned from 4x6 color print @ 300dpi. 6/8/99 -B11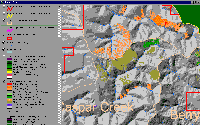 Click on image to enlarge (125K).

This image shows change scene detection results from CDF FRAP which indicates substantial regrowth of conifers in the North Fork Caspar Creek with some areas showing as much as 40% increase in canopy in the four year period between 1994 and 1998. That area was cut in 1988 so the period represents six to ten years after clear cutting. More recent clear cuts still show an increase in shrubs, which will also serve to decrease erosion potential.





---