KRIS Big River: Picture Page
| | |
| --- | --- |
| Area | Lower Big River |
| Topic | USFS VegTypes: Mouth of Big River CalWater 1994 |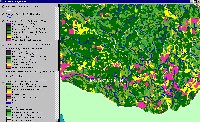 Click on image to enlarge (130K). Click here to display a larger version (373K).
The image above shows USFS vegetation stand types for the Mouth of Big River Calwater planning watershed based on a 1994 Landsat image. The stand types are only accurate at the one-hectare scale. Patches of the basin show as Non-Forest and Saplings (<5" diameter trees) as a result of recent clear cuts. The corridor of the lower river shows as non-forest as a result of salt-grass and estuarine influences. A large patch of Medium-Large Trees (20-29.9") occurs on the north side of this Calwater. Young forest shows as Small and Small/Medium trees. See Info Links for more information. Taken from the KRIS Big River Map project.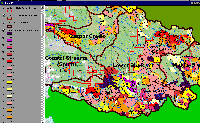 Click on image to enlarge (192K).

The image above shows timber harvest in the Lower Big River basin from 1986 to 1999 according to California Dept of Forestry, Santa Rosa. Recent timber harvest can be linked to early seral conditions in Landsat image.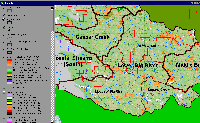 Click on image to enlarge (209K).

The image above shows changes in vegetation from 1994 to 1998 according to Landsat images. Changes in vegetation were mostly in the direction of canopy reduction.





---

To learn more about this topic click here