KRIS Big River: Picture Page
| | |
| --- | --- |
| Area | Middle Big River |
| Topic | Amphibians: Two Log Creek Captures by Electrofishing, 1993-2000 |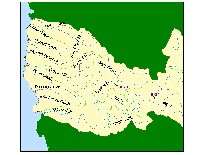 Click on image to enlarge (113K).
The image htc_bigsed.jpg shows the location and Site ID of two sediment and aquatic vertebrate monitoring stations established by Georgia-Pacific in 1993, and currently monitored by Campbell Timberland Management for Hawthorne Timber Company. Big 8 and Big 4 were used to monitor aquatic vertebrates with electrofishing. See Info Links for site descriptions and sampling methodology. Use "Pan" for best resolution of map image.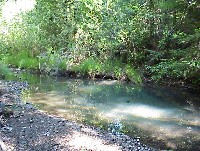 Click on image to enlarge (67K).

This photo shows some of the habitat included in aquatic vertebrate sampling at site BIG4 of Two Log Creek.





---
To learn more about this topic click
here