KRIS Big River: Picture Page
| | |
| --- | --- |
| Area | Middle Big River |
| Topic | Temperature: Floating Weekly Average, Big River below SF 93-96, 98 |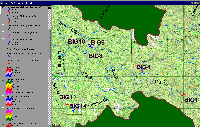 Click on image to enlarge (301K).
The Hawthorne Timber Company owns timberlands formerly managed by Georgia Pacific Corp and continues to monitor in the same locations as GP. Above is a map of temperature monitoring locations on HTC lands in the Big River watershed showing site Big #1 on the mainstem Big River below the South Fork convergence. Please see Info Links for a full key to locations.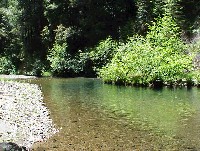 Click on image to enlarge (65K).

The image above shows the aquatic habitat of site BIG1, where water temperature monitoring occurs.





---
To learn more about this topic click
here