KRIS Big River: Picture Page
| | |
| --- | --- |
| Area | Middle Big River |
| Topic | Temperature: Floating Weekly Average, Two Log Cr Upper vs. Lower 1993 |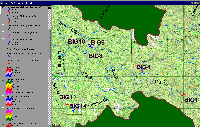 Click on image to enlarge (301K).
The Hawthorne Timber Company owns timberlands formerly managed by Georgia Pacific Corp and continues to monitor in the same locations as GP. Above is a map of temperature monitoring locations on HTC lands in the Big River watershed showing Big #4 in lower Two Log Creek. Big #5 on upper Two Log is not shown. The red and blue designations indicate whether a site has a floating weekly average water temperature exceeded 16.8 C in any year measured. Please see Info Links for a full key to locations.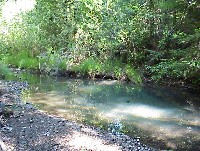 Click on image to enlarge (67K).

The image above shows the aquatic habitat of site Big #4 on lower Two Log Creek, where water temperature monitoring occurs.





---
To learn more about this topic click
here