KRIS Big River: Picture Page
| | |
| --- | --- |
| Area | Upper Big River |
| Topic | Tour: Map Images of Timber Harvests in Upper Big River Sub Basin |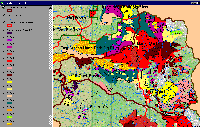 Click on image to enlarge (216K).
The image above comes from the KRIS Big River Map project and shows timber harvests as mapped by the California Department of Forestry by year from 1986-1999. Over 70% of the Upper Big River sub-basin was logged between 1986 and 1999.
Click on image to enlarge (238K).

This image from the KRIS Map project shows the riparian vegetation stand type and timber size class within 90 meters of Martin Creek in the Upper Big River as derived from 1994 Landsat imagery by the USFS Spatial Analysis Lab in Sacramento (see USFS Veg Type topics for more information). The change scene protection provided by CDF FRAP, which is also displayed, indicates a reduction in canopy in riparian zones due to logging, which occurred between 1994 and 1998.





---
To learn more about this topic click
here