KRIS Gualala : Picture Page
| | |
| --- | --- |
| Area | North Fork |
| Topic | Tour: Aerial and Ground Photos of NF Gualala Timber Harvest 2001 |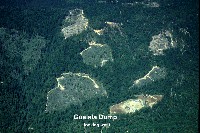 Click on image to enlarge (56K). Click here to display a larger version (1,066K).
This aerial photo shows the lower Little North Fork above its convergence with Doty Creek. Clear cuts with cable yarding appear to have taken place on steeper slopes with tractor logging and associated dense skid trails noticeable on flatter terrain. Photo provided courtesy of Russian River Residents Against Unsafe Logging.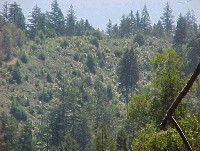 Click on image to enlarge (76K).

Close up of clear cut in lower North Fork drainage taken from the ground several years after harvest. Notice the pampas grass and brush competing with the new conifers.





---