KRIS Klamath : Picture Page
| | |
| --- | --- |
| Area | Lower Trinity/Basin-wide |
| Topic | Temperature: Floating Weekly Average Cedar Creek 1994,95,97,98,99 |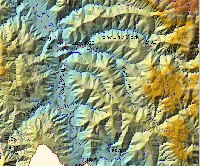 Click on image to enlarge (314K).
The map image above comes from the KRIS Trinity Map ArcView project and it shows the location of Lower Trinity temperature gauges deployed by Six Rivers National Forest. The Cedar Creek temperature gauge is #4023. For a key to location numbers, please see Info Links.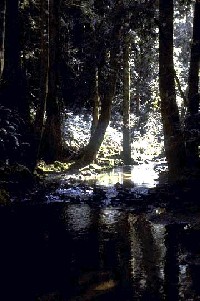 Click on image to enlarge (32K).

This photo shows Cedar Creek, Horse Linto Creek's largest tributary. Note the mature, riparian conifers that in combination with streamside alders provide bank stability and shade. Cedar Creek maintains optimal growth conditions for salmonids throughout summer because of its cool water temperatures. Photo provided courtesy of the Lower Trinity Ranger District, Six Rivers National Forest.





---
To learn more about this topic click
Info Links
To view additional information (data source, aquisition date etc.) about this page, click
Metadata