KRIS Klamath : Picture Page
| | |
| --- | --- |
| Area | Scott River |
| Topic | Tour: Restoration Black Property (Bank Stabilization/Riparian) |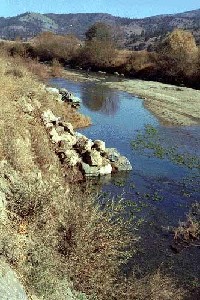 Click on image to enlarge (38K).
Riprap was used to help armor banks on the Black property in a project sponsored by the Siskiyou RCD. Willows were planted behind each rock structure to aid in stabilizing banks as well. The U.S. Fish and Wildlife Service, California Department of Fish and Game and the Wildlife Conservation Board funded this project jointly.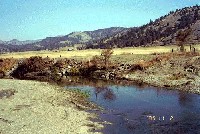 Click on image to enlarge (31K).

Project on the Black property to restore the riparian zone of the Scott River and to prevent further bank erosion. The scour pockets around the deflectors create good fish habitat. The small sized bed materials allow the holes to be scoured more easily than in upper valley reaches where the bed is course.





---
To learn more about this topic click
Info Links
To view additional information (data source, aquisition date etc.) about this page, click
Metadata