KRIS Klamath : Picture Page
| | |
| --- | --- |
| Area | S.F. Trinity |
| Topic | Temperature: Floating Weekly Average Rattlesnake Cr (Lower) 1991-1992 |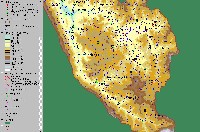 Click on image to enlarge (372K).
The image above is taken from the KRIS Map SF Trinity ArcView project and shows the location of all temperature stations of the Natural Resources Conservation Service (NRCS), Sierra Pacific Industries (SPI), Six Rivers National Forest (SRNF) and Shasta Trinity National Forest (STNF) and Timber Products Corp (TPC). Site number for the gauge in this Chart STNF #18. See Info Links for complete list of gauges.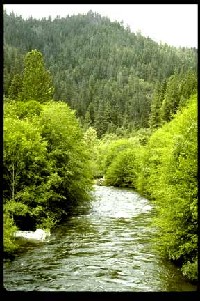 Click on image to enlarge (26K).

Rattlesnake Creek has partially recovered from past flood damage. The alder canopy is symptomatic of a "channel reset" caused by massive flood damage in 1964. The changes in width to depth ratio caused by such an event can lead to lingering elevated water temperatures. It joins the South Fork Trinity River near Forest Glen.





---
To learn more about this topic click
Info Links
To view additional information (data source, aquisition date etc.) about this page, click
Metadata