KRIS Klamath : Picture Page
| | |
| --- | --- |
| Area | S.F. Trinity |
| Topic | Fish: Steelhead Juvenile Density Hayfork (2) Below Miner (Dive) 1994 |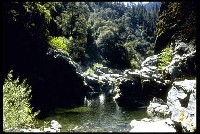 Click on image to enlarge (26K).
Trench pool below Miner Creek (Reach 2) near the lower extent of the survey. This pool was stratified, with the bottom temperature about 5 degrees F cooler tan the surface waters.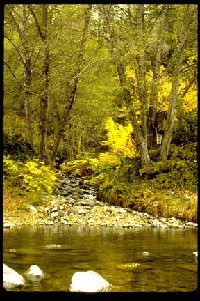 Click on image to enlarge (30K).

The mouth of Miner Creek as it joins Hayfork Creek. The cold water from this tributary provides a refuge area for steelhead juveniles when Hayfork Creek is above stressful temperatures during summer.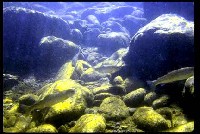 Click on image to enlarge (21K).

This picture shows juvenile steelhead underwater on Hayfork Creek during 1995 PWA survey.





---
To learn more about this topic click
Info Links
To view additional information (data source, aquisition date etc.) about this page, click
Metadata