KRIS Gualala : Picture Page
| | |
| --- | --- |
| Area | Basin-wide/General |
| Topic | USFS Tree Size Classes: Middle SF Gualala CalWater 1994 |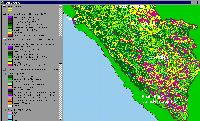 Click on image to enlarge (88K).
The image above is from the KRIS Gualala Map project and shows South Fork basin vegetation as interpreted from a 1994 Landsat image by the U.S. Forest Service Remote Sensing Lab in Sacramento. The Ohlsen Formation underlies the southeastern part of the South Fork Gualala basin, which is associated with Non-Forest and Saplings vegetation signatures. A few Very Large or Large Trees remain in the Middle South Fork Calwater, where there has been less recent active timber harvest.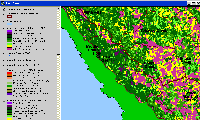 Click on image to enlarge (71K).

This image from the KRIS Gualala Map shows a close up of the Middle South Fork Gualala Calwater and USFS vegetation and tree size classes derived from a 1994 Landsat. This Calwater and the western portions of the Haupt Creek Calwater have the last significant stands of Very Large Trees (40-50" diameter) in the Gualala watershed as indicated by the patches of purple. Patches of Non-Forest and Saplings (trees <5") in the eastern part of the Middle SF Calwater are owing to patches of Ohlsen Formation.





---
To learn more about this topic click
Info Links