KRIS Gualala : Picture Page
| | |
| --- | --- |
| Area | Rockpile Creek |
| Topic | Timber Harvest: Percent Harvested Rockpile Creek Calwaters 1991-2001 |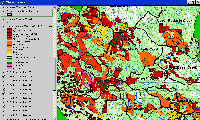 Click on image to enlarge (177K).
The image above comes from the KRIS Gualala Map project and shows timber harvests as mapped by the California Department of Forestry by year from 1991-2001. The timber harvests shown above are for the entire basin and have been approved but may not have been implemented.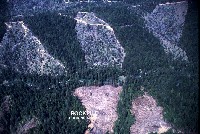 Click on image to enlarge (47K). Click here to display a larger version (192K).

Aerial photo of clear cuts in Lower Rockpile Creek Calwater Planning Watershed in 2001. Photo provided by the Russian River Residents Against Unsafe Logging.





---

To learn more about this topic click Info Links