Photo Database Series Restoration- Winter sand removal techniques in West Br.



Click on any thumbnail to see a larger photo. For detailed information on these photos click here.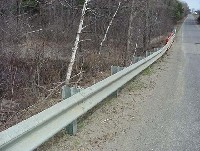 69 KB
There are 742 miles of roads in the Sheepscot River watershed which has an area of about 350 square miles. Public roads are maintained by the Maine Department of Transportation or the municipalities, and private roads are maintained by the individuals or road associations and they all use sand to improve traction in the winter months. This bridge is located on the Choate Road in Windsor. This photo illustrates the build up of winter sand along the guard rails which is a common issue with bridges in the watershed. Photo by M. Laser April 2001.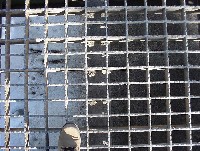 142 KB
This photo is looking through the steel grate deck of the Howe Road Bridge. The sand is visible on the snow and ice under the bridge. The exact amount of sediment that enters into the river through these roads is unknown but is a source of sediment to the river. The loading of winter sand may alter the sediment budget for the river, which affects the channel morphology. Photo by M. Laser March 2002.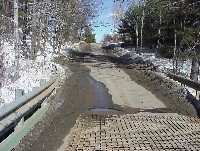 156 KB
This is a photo of the Howe Road from the bridge during a spring melt event. The amount of sand is apparent on the snow banks. Photo by M. Laser March 2002.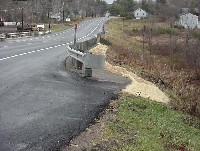 110 KB
The MDOT removed the sand berm and used a mat to reduce erosion from the site. Photo by M. Laser October 2002.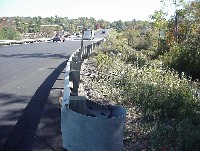 132 KB
This photo shows the Rte 17 Bridge over the West Branch. The sand berm in this case is located just behind the guard rail. Photo by M. Laser October 2000.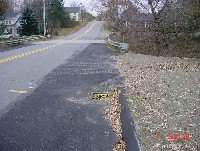 138 KB
MDOT installed a settling basin on the Weeks Mills Road in China to capture winter sand. They also installed a paved shoulder and curb to reduce shoulder erosion. Photo by M. Laser October 2002.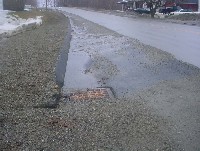 109 KB
This is a photo of the same settling basin during a rain event. The Town of China cleans out the basins annually. Photo by M. Laser May 2003.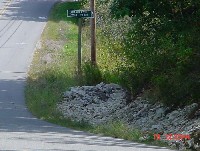 106 KB
Another type of settling basin often used is the rock basin shown in this photo on the Deer Hill Road. Photo by M. Laser September 2002.