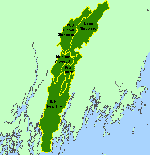 Select topics by area or topic category to access charts, and data tables.
Photos current and historical images of the Sheepscot watershed.
Background to aid in learning about salmon and understanding the contents of KRIS Sheepscot.
Bibliographic Resources concerning the Sheepscot and Gulf of Maine rivers.
Hypotheses address aquatic habitat and fish communities in the Sheepscot River.
Meta table report lists datasets and status of incorporation into KRIS.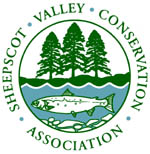 The KRIS Sheepscot project is sponsored by the Sheepscot Valley Conservation Association (SVCA) and funded by the National Fish and Wildlife Foundation and the Maine Atlantic Salmon Commission with technical assistance provided by the Institute for Fisheries Resources (IFR).
The SVCA is working to restore Atlantic salmon through habitat protection and restoration and by educating citizens on how to protect their watershed. The contents of the KRIS Sheepscot project come from a wealth of sources and incorporate results of numerous previous studies, watershed plans and restoration projects.
KRIS Sheepscot Sponsors and Cooperators
The contents of KRIS Sheepscot River were developed by the Sheepscot Valley Conservation Association and the Institute for Fisheries Resources. There is no expressed or implied endorsement of the contents of this project by agencies participating in the KRIS Sheepscot TAC.