Photo Database Series Historical Photos- 1950 Clary Lk (Pleasant Pond) Outlet



Click on any thumbnail to see a larger photo. For detailed information on these photos click here.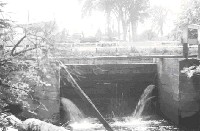 51 KB
Cleary Brook (Tributary to Sheepscot River). Flood control outlet of lower Chase's Mill Pond looking upstream. June 20, 1950.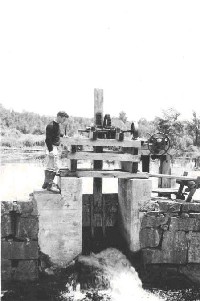 52 KB
Cleary Stream, Tributary to Sheepscot R. Control gate between upper and lower ponds at Chases mill, 1/4 mile above mouth. June 20, 1950.


72 KB
Cleary Brook, tributary to Sheepscot River at 11.5 miles above Alna Bridge. Chase Lumber Mill and lower mill pond from road bridge. Power inlet under mill; flood spillway at right. Impassable barrier. Dam approximately l/4 mile above Cleary Brook mouth. Sill operates on a 23'6" drop head. June 20, 1950.