KRIS Humboldt Bay: Picture Page
| | |
| --- | --- |
| Area | Elk River |
| Topic | Vegetation: Turkey Foot CW Unit 1994 |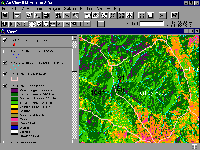 Click on image to enlarge (45K).
This map image shows a summary of vegetation and timber types of the Turkey Foot Calwater Planning Watershed derived from a 1994 Landsat image. The extensive areas of yellow, orange and pinks show substantial disturbance just prior to 1994 which left brush (shrubs) and grasses instead of forest types. This map image is from the Institute for Fisheries Resources but based on 1994 Landsat data interpreted by the Humboldt State University Spatial Analysis Lab. See Info Links for more background information.
Click on image to enlarge (124K).

This aerial photo is of the upper North Fork Elk River within the Turkeyfoot Calwater planning watershed. The spectral signature of this area would be orange, pink, yellow and red-brown signifying shrubs, grasses, shrubs and trees less than 6" diameter at breast height (dbh) and bare soil. Photo courtesy of Doug Thron and Project Lighthawk. Copyright Doug Thron Nature Photography.





---
To learn more about this topic click
Info Links
To view additional information (data source, aquisition date etc.) about this page, click
Metadata