KRIS Humboldt Bay: Picture Page
| | |
| --- | --- |
| Area | Freshwater Creek-Ryan Slough |
| Topic | Vegetation: Eddysville CW Watershed 1994 |
Click on image to enlarge (47K).
The vegetation image above is derived from a 1994 Landsat image which was classified by the Humboldt State University Spatial Analysis Lab (click on Info Links for more information about methods of classification). The continuous pink areas in the upper left (southwest) is pasture lands. Grass signatures in upland areas may be pampas grass (see Picture #2). Map by the Institute for Fisheries Resources.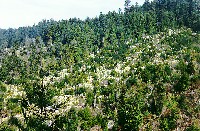 Click on image to enlarge (256K).

This photograph was taken from Greenwood Heights Road just north of the Freshwater basin but within the Eddysville Calwater watershed. The pampas grass and small conifer mixed community would show up as yellow and pink on the Landsat image. The forest up hill would contribute to the Medium-sized tree (11-24 inches in diameter) component and show up as green on the vegetation map. This timber harvest in the photograph may have taken place since 1994.





---
To learn more about this topic click
Info Links
To view additional information (data source, aquisition date etc.) about this page, click
Metadata