Kootenai River Burbot

The burbot (Lota lota) is a landlocked species of cod that inhabits the Kootenay River Basin. The pilot KRIS Kootenai project did not have sufficient funds to work up data on this species, but did receive several informative reports which are part of the Bibliography.
In Idaho, the burbot are native only to the Kootenai River and are genetically distinct from burbot in the Montana reach of the river. Burbot once provided a substantial fishery with tens of thousands of burbot harvested annually. Burbot now number fewer than 1000 in the Kootenai River and Kootenay Lake and may be nearing demographic extinction. Studies completed in the winter of 1997-1998 indicated that flow management at Libby Dam was probably interfering with burbot spawning migration during winter.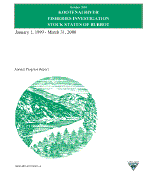 Kootenai River fisheries investigation: Stock status of burbot. Annual progress report January 1, 1999 - March 31 2000 - Objectives
1. Identify factors limiting burbot within the Idaho portion of the Kootenai River drainage and recommend management alternatives to restore the fishery to self-sustainable levels.
2. Define factors limiting burbot migration and reproductive success to improve survival and recruitment of young burbot.
3. Test the null hypothesis (Ho) that winter operation of Libby Dam does not affect burbot upstream migration distance or travel rate.
References
Idaho Department of Fish and Game (IDFG). 2001a. Kootenai River fisheries recovery investigations: Quarterly progress report and summary of activities, July - September 2001. IDFG. 5 pp. [200k]
Idaho Department of Fish and Game (IDFG). 2001b. Kootenai River fisheries recovery investigations: Quarterly progress report and summary of activities, October - December 2001. IDFG. 5 pp. [31k]
Paragamian, V.L., J.R. Kozkay, V. Whitman. 2001. Kootenai River fisheries investigation: Stock status of burbot. Annual progress report January 1, 1999 - March 31 2000. Idaho Department of Fish and Game. Report to Bonneville Power Administration (BPA). BPA Report DOE/BP-00004691-2. Portland, OR. 33 pp. [467k]