Kootenai River White Sturgeon
The white sturgeon (Acipenser transmountanous) is the largest American sturgeon, inhabiting rivers from California's Central Valley to Cook Inlet in Alaska. The U.S. Fish and Wildlife Service (1999b) notes that unlike its anadromous cousins, Kootenai River sturgeon became landlocked during the last period of receding glaciers, about 10,000 years ago. This species can be quite long-lived (60 years) and attain a size of up to 6 meters (19.5 feet) and 850 kg (1870 lbs.). Paragamian et al. (2000) found Kootenai River white sturgeon of up to 49 years of age. Studies of Kootenai River spawners indicate that females may first spawn at the age of 22, while males may spawn as early as age 16.

This white sturgeon was captured during Kootenai River studies by Paragamian et al.(2000). Adult sturgeon were radio tagged and tracked to spawning areas to enable studies of spawning conditions and success. In 1998, sturgeon spawning extended from early May 5 to June 6 with the peak of spawning from May 23-28. Juvenile sturgeon and their food habits, growth and survival in the Kootenai River were also studied. Paragamian et al. (2000) offer recommendations for optimal flow releases from Libby Dam for sturgeon spawning.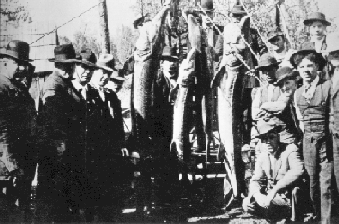 The Kootenai River once had an active sport fishery for white sturgeon (at left), which continued until 1983 (USFWS, 1999b). USFWS (1999b) noted that the population was in decline since the 1960's and that Kootenai River white sturgeon have been listed as endangered under the Federal Endangered Species Act since 1994. The adult population as of 1997 was estimated at 1,468, with most individuals over 25 years old (USFWS, 1999b). The recovery of white sturgeon will take 25 years because of the long life history of the species (USFWS, 1999b).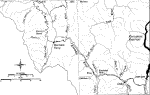 This map is Figure 2 from the Recovery plan for the white sturgeon (Acipenser transmontanus): Kootenai River population (USFWS, 1999b). It shows the reach of the Kootenai River inhabited by the species. The reach from Bonner's Ferry to Shorty's Island is used by adult sturgeon for spawning (Paragamian et al. (2000).
References
Kruse, G.O. 2000. The effects of contaminants on reproduction, embryo development and related physiological processes in Kootenai River white sturgeon, Acipenser transmontanus richardson. Master's thesis, Univ. of Idaho. 191 pp. [880k]
Paragamian, V.L., G. Krause, V. Wakkinen. 2001. Kootenai River white sturgeon investigation: Kootenai River white sturgeon spawning and recruitment evaluation annual progress report, January 1, 1998 - December 31, 1998. Idaho Department of Fish and Game. Report to Bonneville Power Administration (BPA). BPA Report DOE/BP-00004691-2. Portland, OR. 53 pp. [2.4Mb]
US Fish and Wildlife Service (USFWS). 1999b. Recovery plan for the white sturgeon (Acipenser transmontanus): Kootenai River population. USFWS. Region 1. Portland, OR. 96 pp.[8.7Mb] [and 83 pp. of appendices as a separate file because of 6.2Mb size]