Complete Table of Dams in the Sheepscot River Watershed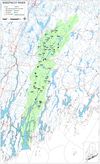 Dams on Maine Atlantic Salmon Rivers: Historical Problem but Restoration Opportunity
Hypothesis #4: Dams are impeding recovery of Atlantic salmon in the Sheepscot river watershed.
This map shows the location of the dams listed in the table below. Click to enlarge.
From Appendix A in Halsted, M. 2002. The Sheepscot River, Atlantic Salmon and Dams: A Historical Reflection. Unpublished. 36 p.
| | | | | | | |
| --- | --- | --- | --- | --- | --- | --- |
| Dam ID | Name | RIVER | Purpose* | Year Built ** | Height in feet | Source |
| 1 | Sheepscot Falls | Main Stem | SP, SM, GM | ~ 1760 | 14 | 4,8,7 |
| 2 | Head Tide Dam | Main Stem | SM,FM,GM | 1762-1768 | 20 | 4,8 |
| 3 | Joshua Little | Main Stem | SM | Prior to 1800 | UK | 3,4,8 |
| 4 | King's Mills | Main Stem | SM, SH, GM | ~ 1774 | UK | 3,4 |
| 5 | Turner Prebble | Main Stem | SM | ~ 1775 | UK | 3,4 |
| 6 | Youngs | Main Stem | SH, SM, FM | ~ 1807 | UK | 3,4 |
| 7 | Un-named | Main Stem | SH, GM | UK | UK | 4 |
| 8 | Cooper's Mills | Main Stem | SM, SH, GM | 1804 | 18 | 3,4 |
| 9 | Un-named | Main Stem | SM | Prior to 1869 | 12 | 4 |
| 10 | Sheepscot Pond Dam | Main Stem | SH, SM, GM, ST | 1790 | 8 | 4,10 |
| WB1 | Pinhook | West Branch | SM | 1804 | UK | 3,4 |
| WB2 | Maxcys Mills | West Branch | SM,GM | 1809 | UK | 4,6 |
| WB3 | Haskell Pope | West Branch | FM, SM | Prior to 1815 | UK | 4,6 |
| WB4 | Chadwick Pratt | West Branch | GM | Prior to 1829 | UK | 6 |
| WB5 | Prescott | West Branch | GM, SH | ~ 1829 | UK | 6 |
| WB6 | Weeks Mills | West Branch | SM, GM | Prior to 1807 | UK | 11 |
| WB7 | Un-named | West Branch | T | Prior to 1856 | UK | 11 |
| WB8 | Pullen | West Branch | SM | Prior to 1856 | UK | 11 |
| WB9 | Hammond | West Branch | T, SM, SH | Prior to 1856 | UK | 11 |
| WB10 | Branch Mills | West Branch | SM, GM | Prior to 1800 | 14 | 1,9,10,11 |
| MD1 | Grays Tide Mill | Marsh/Deermeadow Brook | WS | ~ 1850 | 13 | 4,7 |
| MD2 | Shattuck Tide Mill | Marsh/Deermeadow Brook | WS | 1835 | UK | 4,7 |
| MD3 | Allens Falls | Marsh/Deermeadow Brook | GM, SM | 1660 | UK | 4,7 |
| MD4 | Weeks Mills | Marsh/Deermeadow Brook | SM | ~1800 | 8 | 4 |
| DY1 | Unnamed | Dyer River | SM, SH | Prior to 1869 | 12 | 4 |
| DY3 | Match | Dyer River | M, | UK | UK | 5 |
| DY4 | Fulling | Dyer River | GM, FM, SH, ST | Prior to 1869 | 10 | 4 |
| DY5 | Boynton Trask | Dyer River | SM | 1850 | 8 | 4, 5 |
| CL1 | Chases Mill | Clary Lake | SM, SH | ~ 1791 | 8 | 3,4 |
| CL2 | Streans | Clary Lake | SM, SH | 1790s | 10 | 3,4 |
| GL1 | David Bryant | Gully Brook | SH, ST | 1850 | 6 | 4,6 |
| DB1 | Tolman Colburn | Dearborn Brook | SM, SH | 1832 | UK | 4,6 |
| CH1 | Solomon Bruce | Choate Brook | FM, ST | Prior to 1832 | UK | 6 |
| ME1 | Un-named | Meadow Brook | SM | Prior to 1856 | UK | 11 |
| CO1 | Turner | Colby Stream | SM | Prior to 1819 | UK | 9 |
| CO2 | Berry | Colby Stream | SM | Prior to 1886 | UK | 9 |
| LJ1 | Dodges | Lovejoy Stream | SH | Prior to 1869 | UK | 2,4 |
| LJ2 | French's | Lovejoy Stream | SM | Prior to 1869 | UK | 2,4 |
| LJ3 | Colby | Lovejoy Stream | SM | 1825 | 14 | 1,2 |
| BP1 | Greeley | Beech Pond | GM | 1807 | UK | 9 |
| TR1 | Head Mill | Trout Brook | SM | ~1750 | UK | 8 |
| TR2 | Trout Brook Dam | Trout Brook | SM | 1940 | 16 | 8 |
| BB1 | Hodge | Ben Brook | SM | UK | UK | 8 |
| NP1 | Mill Dam | Chisolm Pond | FM, SM | 1820 | 20 | 10 |
UK = Unknown
*SP=Ship Passage, SM=Sawmill, GM=Gristmill, WS=Water Supply, FM=Fullingmill, PM=Potters Mill, M=Match factory,
SH=Shingle Mill, ST=Stave Mill, T=Tannery
**Refers to first dam built at the site