Dams on Maine Atlantic Salmon Rivers: Historical Problem but Restoration Opportunity
Dams were constructed on most of the rivers of New England (Netboy, 1973) to harness the energy of falling water to operate grain or saw mills and later to produce electricity. Dams were also built to facilitate log drives and as ice control structures. Atlantic salmon were blocked from hundreds of miles of former habitat in Maine rivers by dams, which were a major cause of the species' decline (Baum, 1997).
On the Sheepscot River, a dam was constructed at Head Tide near Alna in the 1760's (Halsted, 2002) and in 1874, Atkins noted that it had reduced the Atlantic salmon run to a few dozen fish and completely eliminated alewives. The mainstem and tributaries, including the Dyer River, had dams at 44 locations (MDDS, 1921; Meister, 1982; Halsted, 2002) and many were still in use into the 1940's (MASSC, 1950). See a complete table of Sheepscot dams from Halsted (2002).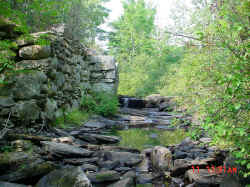 This is the old Pullen Dam, near China, Maine, in the Sheepscot River basin. It was in operation as early as the 1850's when it was used to power a saw mill. The stone work remains today, although the dam has long since been removed. Photo by Melissa Halsted. [182 Kb]
With the formation of the Atlantic Sea Run Salmon Commission in 1947, there was a new push for restoration of Atlantic salmon with substantial focus on dam removal or fishway construction in many Maine rivers (Baum, 1997), including the Sheepscot River (Bryant and Fletcher, 1951). The Head Tide Dam was altered in the early 1950s, but fish passage problems were not totally resolved until 1968, when a notch along the eastern shore was provided (Meister, 1982). The Draft Atlantic Salmon Recovery Plan (NOAA and USFWS, 2004) notes that: "Today, most of the structure still exists and though it no longer obstructs fish passage, it still impacts spawning and rearing habitat by altering normal flow conditions." There is sufficient freshwater habitat below the Head Tide Dam for a remnant population of wild Atlantic salmon to spawn and persist in the lower Sheepscot and its tributaries (Halsted, 2002).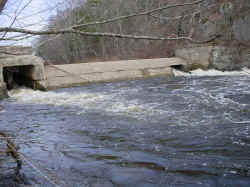 The Head Tide Dam at Alna blocked fish passage into most of the Sheepscot River basin for more than a century before it was notched for fish passage along the eastern bank in 1960. Photo taken in 2002 by Melissa Halsted. [132 Kb]
The Kings Mill Dams were also removed in the early 1950's (Meister and Foye, 1963), but a proper fish ladder for Coopers Mill Dam was not constructed until 1960 (Meister, 1982). With regard to the latter fishway, NMFS and USFWS (2004) noted that: "The dam has developed leaks that reduce attraction to the fishway. In addition, a screen in the fishway to block lamprey passage and to assist in the alewife fishery, in combination with the deterioration of the dam's structural integrity, greatly reduces or prevents the passage of migrating salmon during the spring migration period."
This is Cooper Mill Dam and the Denil fish ladder, which allows passage of Atlantic salmon and alewives. The dam was built sometime between 1803 and 1806, and at different times powered a sawmill, a gristmill and a shingle mill. This dam creates a slackwater area in the Sheepscot River below Long Pond, which favors warm water fishes (MDIFG, 1961). Photo by Melissa Halsted. [196 Kb]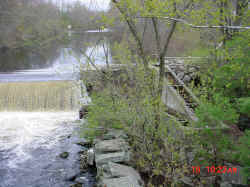 While dams can be used to maintain minimum base flows for Atlantic salmon (Meister and Foye, 1963), they may also alter natural flow regimes. Dams block sediment transport and can cause a stream to become sediment starved, which can limit the availability of spawning gravel for salmon. Reduced flows on large river ecosystems may prevent bed rejuvenation which allows riparian encroachment that can disconnect the active channel from the flood plain (McBain and Trush, 1997). In the Sheepscot River, dams may exacerbate water quality problems as impoundments are more subject to warming and may in some cases foster conditions that decrease dissolved oxygen levels (Arter, 2004). Arter (2004) raised concerns regarding fish passage and water quality issues related to dams in the Sheepscot River (see Table 3.8.1). Warm water fishes like chain pickerel and smallmouth bass also flourish in the impoundments (MDIFG, 1961) and potentially present predation problems for migrating Atlantic salmon parr or smolts.
For more information, see also:
Hypothesis 4: Dams are impeding recovery of Atlantic salmon in the Sheepscot river watershed.
Hypothesis #5: Predation by introduced fish species is limiting Atlantic salmon production in the Sheepscot River and its tributaries.
References
Arter, B. S., 2004. Sheepscot River Water Quality Monitoring Strategic Plan: A guide for coordinated water quality monitoring efforts in an Atlantic salmon watershed in Maine. Prepared for the Project SHARE: Research and Management Committee. 84 pp. [975kb]
Atkins, C.G. 1874. On the salmon of Eastern North America and its artificial culture. Report of the Commissioner for 1872 and 1873, part II. United States Commission of Fish and Fisheries, Washington D.C. 226-337 p.
Baum, E. (1997). Maine Atlantic Salmon: A National Treasure. Hermon, ME:, Atlantic Salmon Unlimited. 224 p.
Bryant, F. G. 1956. Stream Survey of the Sheepscot and Ducktrap River Systems in Maine . USDOI, U.S. Fish and Wildlife Service, Washington D.C. Special Scientific Report: --Fisheries No. 195. 22 pp 11 MB.
Bryant, F. G. and J.S. Fletcher. 1951. A report on the Head Tide, (Jewett's), and King's Mill Dams and other obstructions on the Sheepscot River with recommendations for providing for adequate passage of salmon and other fish. U.S. Fish and Wildlife Service, Atlantic Salmon Investigations. 6 pp. 25kb**
Halsted, M. 2002. The Sheepscot River, Atlantic Salmon and Dams: A Historical Reflection. SVCA, Alna, MA. 36 p.
Maine Atlantic Salmon Commission. 1950. Report on the West Branch Sheepscot River. Bangor, MA.
Maine Department of Dam Safety. 1921. Reports on 14 individual dams within the Sheepscot Watershed. Forms on file at Bangor, MA. 28 p.
Maine Department of Inland Fisheries and Game. 1961. Report on Long Pond and its fishes. MDIFG. Augusta, ME. 2 pp.[ 90 kb]**
McBain and Trush. 1997. Trinity River Flow Maintenance Study. Performed under contract to the Hoopa Tribe. Contract #30255 by McBain and Trush. Arcata, CA. 481 pp.
Meister., A.L. 1982. The Sheepscot River: An Atlantic Salmon River Management Report. Atlantic Sea Run Salmon Commission, Bangor, Maine. [3.7Mb]
Meister, A. L. and R.E. Foye, 1963. Sheepscot River Drainage - Fish Management and Restoration. Atlantic Sea Run Salmon Commission and the Maine Department of Inland Fisheries and Game. Augusta, ME. 35 pp. [305kb]**
Netboy, Anthony. 1974. The Salmon: Their Fight for Survival. Houghton Mifflin Company, Boston, MA. 319 p.
National Marine Fisheries Service (NMFS) and U.S. Fish and Wildlife Service (USFWS). 2004. Draft Recovery Plan for the Gulf of Maine Distinct Population Segment of Atlantic Salmon (Salmo salar). National Oceanic and Atmospheric Administration, NMFS, and Northeastern Region USFWS. Silver Spring and Hadley, MA. 239 pp. [950 kb]