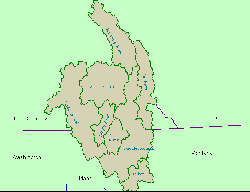 Select topics by area or topic category to access charts, images, and data tables.
Background pages explain the derivation of information in the pilot KRIS Kootenai project. They are examples of how KRIS assimilates and interprets information and do not cover all subjects incorporated in the pilot phase.
Bibliography contains a sampling of scientific reports from the Kootenai Basin.
Map pages display images of maps that are in the KRIS Kootenai Map Arc View project.
KRIS Kootenai is a pilot project built for the Kootenai River Network (KRN) that pulls together representative, but not comprehensive, samples of maps, data tables, charts, photographs and bibliographic materials. The purpose is to show KRIS' utility as an assimilation tool for KRN and others for all Kootenai basin information related to fisheries and water quality. KRIS is an easy-to-use, PC-based computer program designed to capture essential watershed information so that it can be shared quickly and easily among agencies, private land owners, Tribes and citizens. It was devised for trend monitoring and adaptive management for the Klamath River, which gave rise to the name Klamath Resource Information System or KRIS.
The KRIS Kootenai project is funded by the Kootenai River Network (KRN) to develop a prototype web-based Klamath Resource Information System [KRIS] project to demonstrate to the Kootenai River-interested community how the KRIS tool can be used to capture, integrate, analyze, and present to the public information concerning the health of the Kootenai River watershed."
The project was completed by the KRIS development team of the non-profit Institute for Fisheries Resources [IFR], with active participation by the KRN board members. The contents of the pilot KRIS Kootenai have been reviewed by all those contributing data. The KRIS Kootenai database will be exclusively available on the Internet until a full project is funded, when CD based versions will be distributed.
KRIS Kootenai Sponsors and Cooperators